Fuji Roubaix Pro '03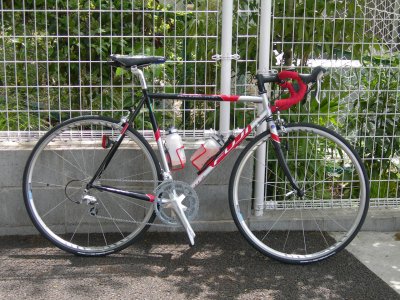 My second roadracer, which has Cr-Mo steel frame. The frame is a present from my friend, who got this frame in San Francisco for just $100! Originally Fuji Bikes is a Japanese brand, but now Fuji Bike is in USA and high-end bikes of Fuji is not sold in Japan. So, I think only 2 or 3 of the same models are running in Japan.
I assembled this bike with SHIMANO's 6600 Ultegra group, and using as a super-fast commuter bike. The distance from my home to university is about 20km (so I take 45min from/to home), there's much more fun than taking the crazily crowded trains in Tokyo. Although the bike isn't so light, it runs so smooth and so fast. Yeah, Cr-Mo racer is really great!